Felix Rosenqvist featured in the chase for podiums and wins in both of this weekend's two NTT INDYCAR SERIES races at Texas Motor Speedway, only to frustratingly slip out of contention through a series of unfortunate events.

Heading into the first oval round of the 2021 campaign, Rosenqvist had expressed an optimistic outlook following promising signs in pre-season testing, and the positive sentiments were duly confirmed as the Arrow McLaren SP cars of Rosenqvist and Pato O'Ward (MEX) flew at the Texas superspeedway.

After qualifying was cancelled due to rain, the grids for the double-header races were both set based on championship standings, leaving Rosenqvist down in 18th and 17th respectively at a track notoriously hard to overtake on.

The Swede forcefully battled back, however, drawing from some serious pace and efficient strategy calls to twice haul himself all the way into victory contention.

In the first race of the meeting on Saturday, the Genesys 300, Rosenqvist was running second and chasing down leader (and eventual race winner) Scott Dixon – but came to suffer a frustrating end to the race following a poor last pit stop under caution.

Stopping deep, and forced to take evasive action when countryman Marcus Ericsson lost a wheel in the pit box ahead, Rosenqvist was shuffled down the order to ultimately finish a disappointed 13th.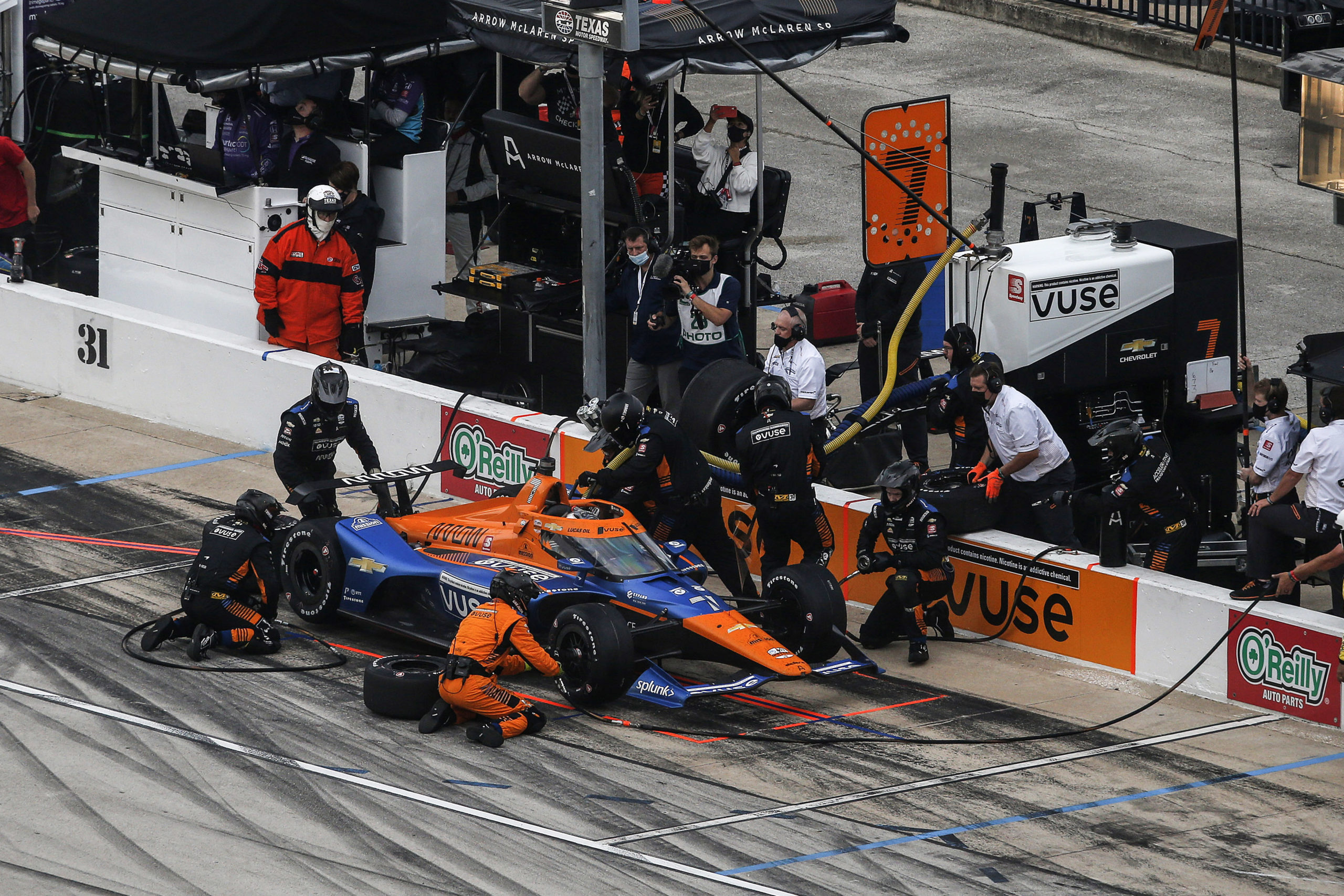 "We were definitely on for a podium in the first race, or maybe even a win," says Felix Rosenqvist. "We made some great calls to move from P18 to P2, and the car really came to life at the front. I think we were the fastest package out there in the middle stint, so it was a big shame to have it slip away in a series of bad events at that last pit stop."

In the slightly longer Sunday race – the Xpel 375 – Rosenqvist looked on course for retaliation, again storming through the field and clinging onto the leaders from his lowly grid slot.

In an all-too familiar déjà vu, however, things once more came to a head on the last scheduled stop when – exiting the pits – Rosenqvist's right-rear tyre worked itself loose and rendered the day effectively over.

"Again, we had a fantastic race until that point," Rosenqvist says. "The car was really fast and we managed to get it into the sweet spot. There were lots of positives today, and we need to remember that. It is just highly frustrating because I think we had two very real chances for the podium these two days and we didn't bring anything home."

Up front, meanwhile, team-mate O'Ward went on to clinch the first NTT INDYCAR SERIES win for Arrow McLaren SP.
"Big congrats to Pato on winning the race today – that makes up for a lot of it for the team," Felix Rosenqvist concludes. "I'm really happy for his first INDYCAR win and I know how incredible it is. As for my side and the #7 crew, we just need to take away the positives and come good in Indy."

INDYCAR resumes with the GMR Grand Prix, staged on the Indianapolis Motor Speedway road course configuration, on May 14-15.

RESULTS
NTT INDYCAR SERIES | Rd. 3&4
Texas Motor Speedway (USA)
Race 1 (Genesys 300)
1: Scott Dixon (NZL), Ganassi, 212 laps
2: Scott McLaughlin (NZL), Penske, +0.264s
3: Pato O'Ward (MEX), AMSP, +1.780s
4: Alex Palou (ESP), Ganassi, +2.856s
5: Graham Rahal (USA), Rahal, +6.604s
—
13: Felix Rosenqvist (SWE), AMSP, +12.947s

Race 2 (Xpel 375)
1: Pato O'Ward (MEX), AMSP, 248 laps
2: Josef Newgarden (USA), Penske, +1.244s
3: Graham Rahal (USA), Rahal, +5.644s
4: Scott Dixon (NZL), Ganassi, +6.038s
5: Colton Herta (USA), Andretti, +6.378s
—
16: Felix Rosenqvist (SWE), AMSP, +2 laps

CHAMPIONSHIP STANDINGS
NTT INDYCAR SERIES | After 4/17 races
1: Scott Dixon (NZL), Ganassi, 153 p.
2: Pato O'Ward (MEX), AMSP, 131 p.
3: Alex Palou (ESP), Ganassi, 127 p.
4: Josef Newgarden (USA), Penske, 116 p.
5: Graham Rahal (USA), RLL, 107 p.
—
16: Felix Rosenqvist (SWE), AMSP, 58 p.