The global impact of the coronavirus pandemic has sent shockwaves through society, effectively putting life on pause for the last ten weeks. As the world prepares to get slowly back on track, however, and with the NTT INDYCAR SERIES having confirmed a June 6 date for its return to action, there is cautious optimism now beginning to fill the air.
To celebrate the brighter times ahead and build up to the much-awaited 2020 opener, we have decided to actually go the other way and look back. In three separate installments, starting today and culminating on Sunday, Felix Rosenqvist is taking a trip down memory lane to pick his Top 3 moments from last year's campaign; the best drives, and the most important, of his INDYCAR career so far.
TOP 3 RACES – 3RD
Opening up our retrospective feature series is a race that took place not that long ago. Actually, it's the latest IndyCar race to be staged, throwing us back to September and a dramatic season-finale at Laguna Seca – where Felix channeled his frustrations from a qualifying penalty to eventually bring home the Rookie of the Year trophy…
Race: NTT INDYCAR SERIES, Firestone GP of Monterey (USA) 
Date: September 22, 2019
Result: P5 (+9.520s)
Notable for: Rise through the pack, numerous overtakes on title-contenders
Race top five:

1: C.Herta, 90 laps
2: W.Power, +0.587s
3: S.Dixon, +6.240s
4: S.Pagenaud, +6.354s
5: FRO, +9.520s
—
Read: race report
View: full results
See: onboard lap
See: video interview
See: image gallery
FELIX ON THE RACE: 
This was the first time that Laguna Seca held a race in a very long time, so a lot of excitement and talk was building up for this one.
Personally, I thought it would be an epic way to finish the season. Having done a few laps there in the beginning of the year before the test got rained off, it definitely had the potential of becoming one of my favourite tracks on the calendar. After having played so many video games on Laguna back in my childhood, it wasn't really feeling like a new experience, but the track was just as much fun as I'd hoped for!
IndyCar gave all the teams the chance to have a full day of testing on Thursday leading up to the race weekend, and we were very competitive from the start. With a lot of laps prior to the actual event start, the team really succeeded in making the car better every lap we turned. The form continued into Friday where we ended final practice on top. 

I had never been more confident going into a qualifying session. It was just a matter of getting it done. Qualifying started and I was ready to go on the black (slower) tyres, but as I was getting up to speed I had a silly spin in T6. I didn't think much about it as I was able to just continue driving afterwards, so no harm done I thought.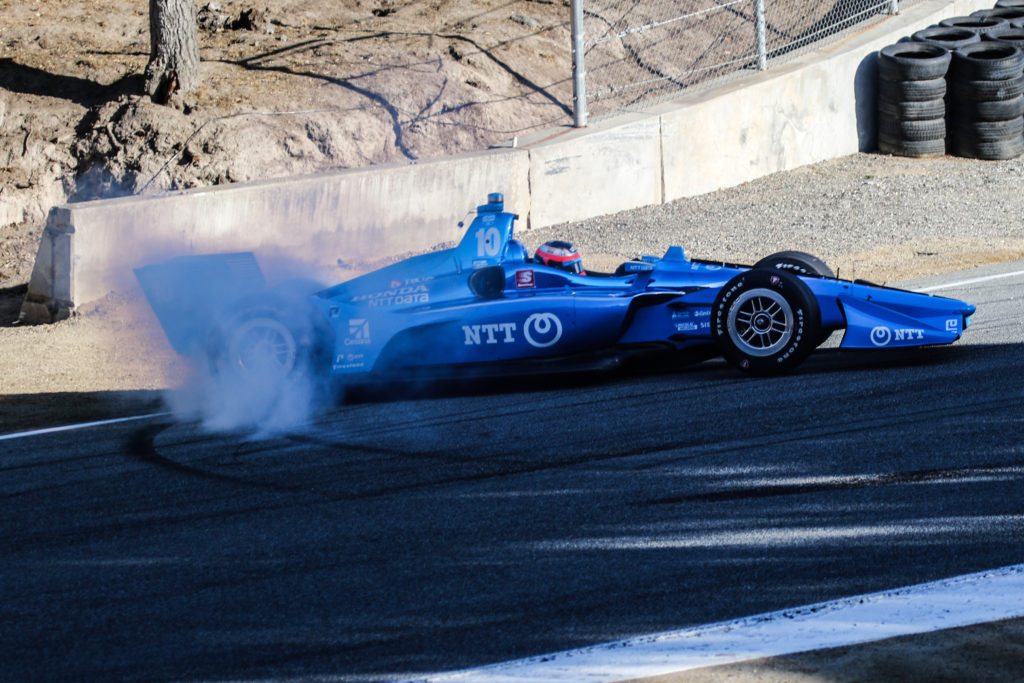 After putting on the red (faster) tyres everything felt extremely good, and I was able to set the fastest time of the session. However, as I came into pitlane the team told me that my time wasn't valid as I'd impeded James Hinchcliffe (who was also getting up to speed) when I spun in T6. That was a decision that can be, and was, heavily discussed, as even Hinchcliffe thought it wasn't right. Done is done, though – after all I made a mistake that effectively set off the whole thing, so that's on me. 

Still, I was extremely frustrated. Mostly because of all the work my crew had put into the #10 NTT DATA car leading up to this race, and because I knew we had an extremely good chance of both grabbing the pole and winning this race. 

As it was, I had to start the race from P14 (best of those who didn't proceed to Fast 12) – and since Laguna isn't exactly famous for easy overtaking, you didn't need a rocket scientist to figure out what needed to be done to go forward. 
Waking up on race day I had accepted the penalty, but I was still extremely annoyed at the whole situation – and I managed to use this anger to pull off one of my best drives yet.

It was one of those races that reminded me of the karting days, where you race wheel to wheel with almost the whole field at some point. I was able to plow through the pack with a couple of really fun moves into the famous Corkscrew corner that surprisingly became one of my best overtaking spots. 

Days like those are the ones I enjoy the most in motorsport, where the fighting, focus and determination to go forward is there throughout the whole race. However fun though, starting at the back is not the way you win races, and that was the big lesson of Laguna.

Finishing P5 in the race, grabbing Rookie of the Year and P6 in the championship was a good way to sum up a crazy rookie season in IndyCar with a promising feeling going into year two.