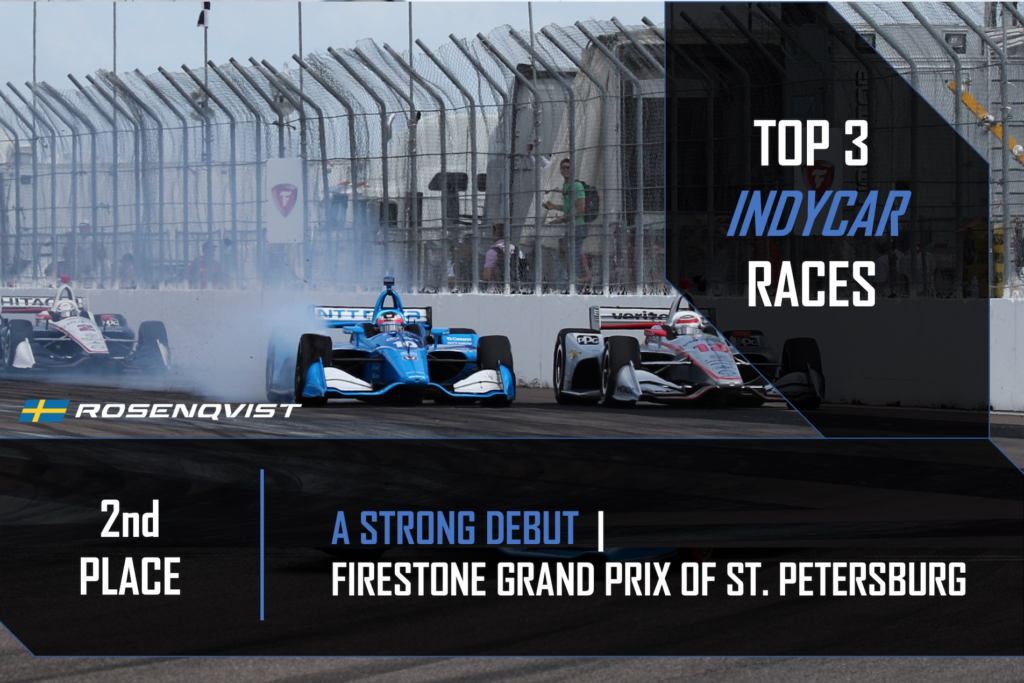 The global impact of the coronavirus pandemic has sent shockwaves through society, effectively putting life on pause for the last ten weeks. As the world prepares to get slowly back on track, however, and with the NTT INDYCAR SERIES having confirmed a June 6 date for its return to action, there is cautious optimism now beginning to fill the air.
To celebrate the brighter times ahead and build up to the much-awaited 2020 opener, we have decided to actually go the other way and look back. In three separate installments, Felix Rosenqvist is taking a trip down memory lane to highlight his Top 3 moments from last year's campaign; the best drives, and the most important, of his INDYCAR career so far.
TOP 3 RACES – 2ND
In part two of the series, Felix shares his memories of his very first race in the championship, as he exploded onto the INDYCAR scene thanks to a headline-grabbing drive in sunny Florida…
Race: NTT INDYCAR SERIES, Firestone GP of St. Petersburg (USA)
Date: March 10, 2019
Result: P4 (+14.585s)
Notable for: Felix's debut race, lock-up overtake on Power for lead
Race top five:

1: J.Newgarden, 110 laps
2: S.Dixon, +2.899s
3: W.Power, +12.744s
4: FRO, +14.585s
5: A.Rossi, +18.361s
—
FELIX ON THE RACE:
My first ever IndyCar race was St. Pete. After signing a good couple of months before the season-opener, there was a lot of talk and expectations on me joining Chip Ganassi Racing for my rookie season.

It seemed like I wasn't considered a rookie by the talks of the media, and my own expectations went along with that – I had such a good season build-up with all the right people around me, from my manager Stefan helping me out with setting up a baseline in America, to my team welcoming me with open arms into the world of Chip Ganassi Racing.

This allowed me to focus on the important things during testing, and since I had already got to know the key personnel from my tests with the team back in 2016-2017, it was very easy to just get on with the job.

Starting off the season with St. Pete was a best-case scenario for me personally as I had been there before (unlike most tracks on the calendar) and it was my favourite track from my half-season in Indy Lights in 2016, where I also had my first win (PICTURED BELOW).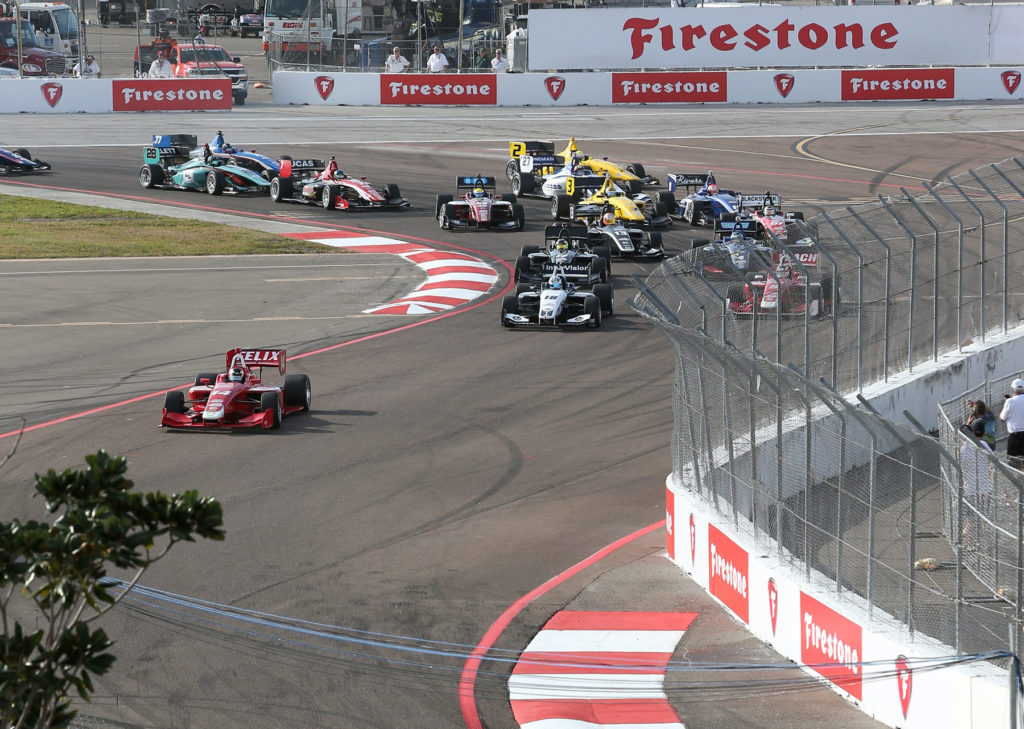 Practice went very well, with the only problem being that I had grown so much from a very increased workout program that my shoulders barely fitted into the seat that I had made months prior to the race, so we had to start trimming and cutting into the seat between sessions. It was obviously not ideal, but for the short runs it seemed OK.

Qualifying was a mess initially where red flags meant that some drivers didn't even get to set a lap time. I was pretty lucky to get through both the first and second stage with some scrappy banker laps, and made it through to Firestone Fast Six, where I put together a good lap which gave me third on the grid. Definitely not too shabby.

The race itself started in the best possible way, going up to second initially, then overtaking Will Power for first after a restart. I got a good run on him and decided to go for it when he appeared to brake early into T1; I locked the front wheels and it probably looked quite spectacular, but it felt under control.
Flowing through the track in the lead, pounding out qualifying laps was a really cool feeling, but the big IndyCar reality check was soon to be had!

After the first pitstop where I struggled to get into first gear, I lost a bunch of positions and came out in fourth after a very close call on pit exit with Will. It was a big slap in the face; whereas I was used to races practically being over after the start, this was a different beast.

This race was far from over, and initially I had pictured a much shorter and easier challenge. I settled in behind Newgarden, Dixon and Power and somewhere halfway into the race I started to get massive pain in my right shoulder due to the seat digging in to the same spot all the time. It went to the point where I had to rest my shoulder outside the seat on the straights.

St. Pete itself is considered the most physical challenge on the calendar as it is, and this on top of that made it the most painful and demanding experience that I have ever gone through.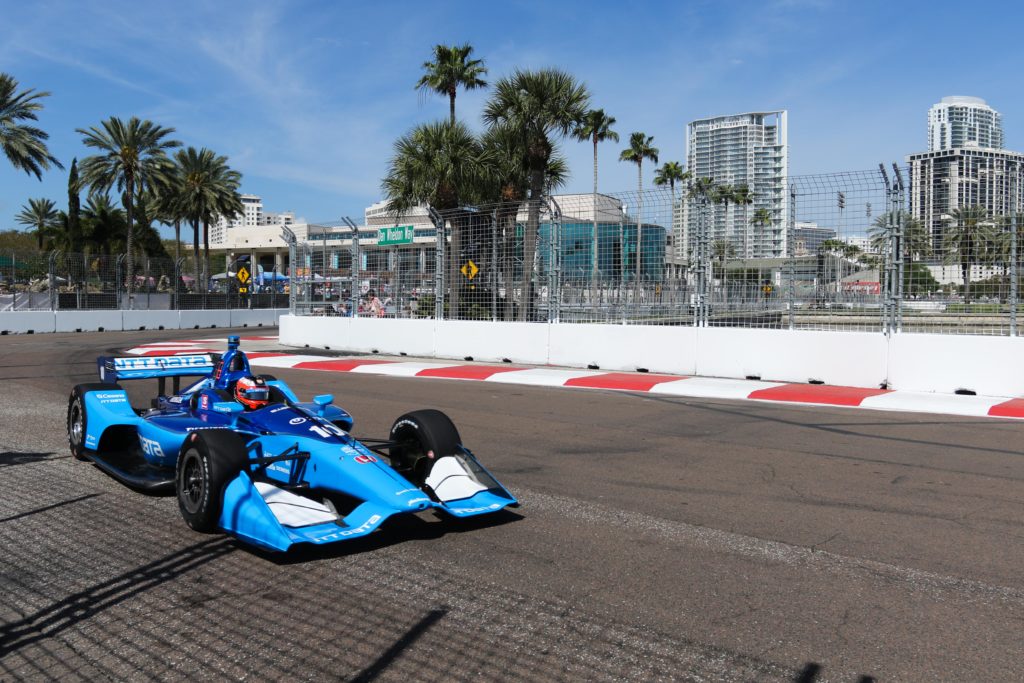 Normally when you get the adrenaline going from just being on a street track between those walls, you don't really feel pain until after you jump out of the car, but in this case I was reminded every second… Thankfully the NTT DATA car was performing very consistently on that day, and that was certainly a help.

110 laps passed, and I rolled in on a fourth position completely beaten. When my crew came to celebrate, I couldn't even move my right arm, and had to give them an awkward crossed left-hand high five!

It was a great way to start my IndyCar journey, though. There was a huge sign of potential for the future, but at the same time I felt like a podium or even a win slipped away that day. I still do.

It was definitely a humbling experience in every way where I started to learn how complex, long and ever-changing IndyCar races are, and that you can never just settle. You have to keep pushing every lap as everything (track, strategy, tyres) changes.

I'm always very hard on myself, and I keep races like these as a constant reminder to learn from and to be better in the future. But as this was my first-ever race in this extremely competitive championship, I'll give myself a small tap on the shoulder; it was a good one that I will always remember.