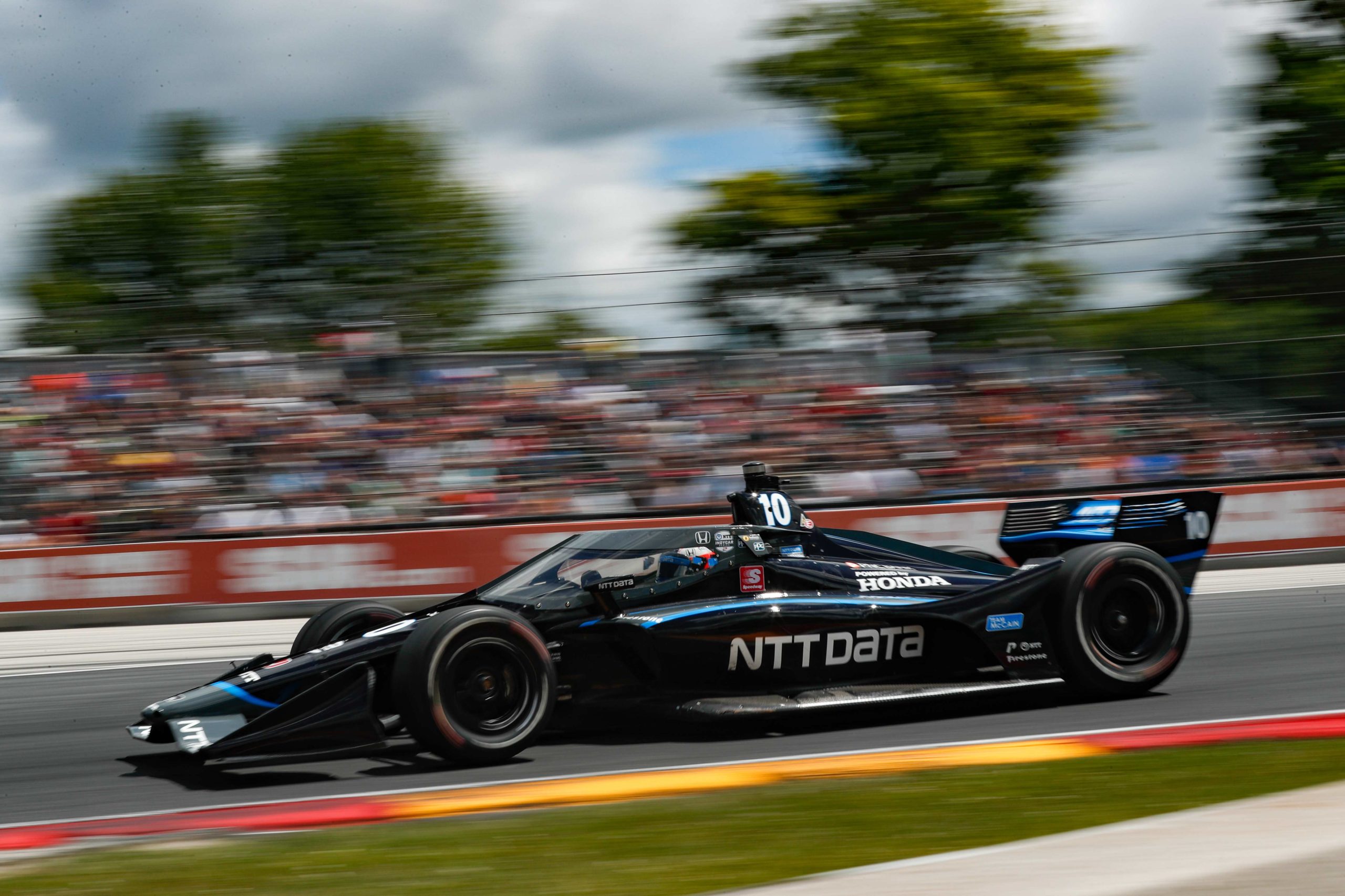 NTT INDYCAR SERIES | RD. 5&6
PREVIEW: IOWA 250S, IOWA SPEEDWAY (USA)
Having clinched his first NTT INDYCAR SERIES victory last Sunday, it's been a busy couple of days in the life of Felix Rosenqvist. There's been little time for celebration, however, and with another weekend of packed double-header racing immediately coming up, it's straight back to business for the NTT DATA-backed Chip Ganassi Racing Swede.
In taking the chequered flag at Road America following a last-gasp pass for the victory, Rosenqvist became only the second-ever Swede to win in INDYCAR, following in the footsteps of Kenny Bräck. Also delivering the first triumph for Ganassi's #10 entry since 2014, it was a key success in Rosenqvist's victory-lined career.
Heading into the Iowa 250s this weekend, however, the 2019 Rookie of the Year is prepared for a very different challenge at the shortest track on the calendar – with two intense races scheduled in at the 7/8-mile Iowa Speedway.
"It's been a great few days since taking my first INDYCAR win, and I'd like to thank everyone for their messages of support and congratulations," says Felix Rosenqvist. "It was a big day, but I immediately started thinking about Iowa. It's a really fun track, definitely one of my favourite ovals. It's only a 17-second lap, so the racing gets very close and you're always wheel-to-wheel with someone. I'm looking forward to it!"
Thanks to his Road America victory, Rosenqvist improved to eighth in the overall NTT INDYCAR SERIES standings. He also came close to a podium in the opening race of the season at the Texas Motor Speedway oval, but crashed out some ten laps from home after battling for another potential win.
"We were right up there in Texas, and I feel I've taken a step on the ovals this year," Felix Rosenqvist continues. "Iowa is very different, though, a very small short oval as opposed to a high-speed superspeedway. Let's see what we can do. It's going to be intense and close racing, so I'll be pushing for a strong result!"
Both of this weekend's races will run for 250 laps (hence the Iowa 250s event name). Practice begins on Friday, followed by a single qualifying session that will set the grids for both Race 1 and Race 2.
The opening race takes place on Friday and the second on Saturday.
Friday 17 July
Free Practice 1: 20.00-21.30
Qualifying: 23.30-00.30
Race 1 (250 laps): 03.15 – early Saturday morning

Saturday 18 July
Free Practice 2: 21.30-22.30
Race 2 (250 laps): 02.45 – early Sunday morning




Friday 17 July
Free Practice 1: 2:00-3:30 pm
Qualifying: 5:30-6:30 pm
Race 1 (250 laps): 9:15 pm

Saturday 18 July
Free Practice 2: 3:30-4:30 pm
Race 2 (250 laps): 8:45 pm




Championship
Standings after 4/14 races
1: Scott Dixon (NZL), Ganassi, 173 p.
2: Colton Herta (USA), Andretti, 119 p.
3: Simon Pagenaud (FRA), Penske, 110 p.
4: Pato O'Ward (MEX), McLaren SP, 110 p.
5: Josef Newgarden (USA), Penske, 106 p.
—
8: Felix Rosenqvist (SWE), Ganassi, 88 p.

TYPE: Short oval
LENGTH: 0.894 miles / 1.4 km
2019 POLE: S. Pagenaud
2019 WINNER: J. Newgarden
FRO 2019: 14th
TIMING: The IndyCar App and racecontrol.indycar.com
ENTRY LIST: view here