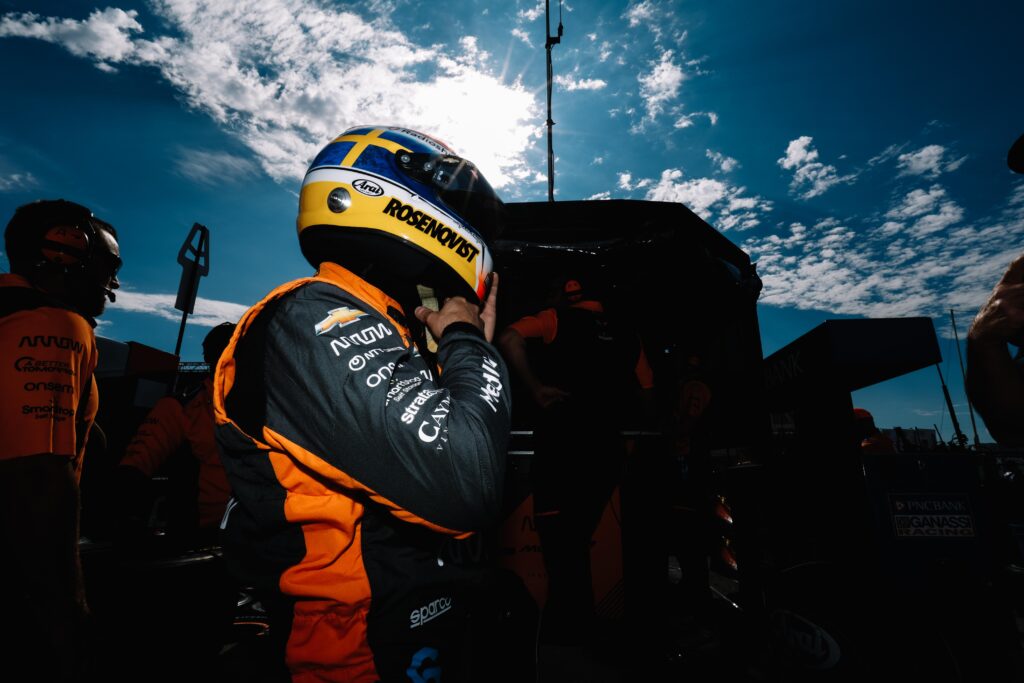 Felix Rosenqvist lived through an emotional roller coaster to close out the 2023 NTT INDYCAR SERIES in the season-ending Firestone Grand Prix of Monterey, where the Swede battled for victory from a commanding pole position but was ultimately punted off the track in his final race for Arrow McLaren.  
 
Rosenqvist, who will depart Arrow McLaren to instead join Meyer Shank Racing in 2024, was on blistering form on his swansong with his current team, powering to pole position in a record-shattering qualifying session at Laguna Seca on Saturday.
 
With the repaved Californian track producing incredible grip, Rosenqvist's benchmark time of 1m06.641s proved a massive five seconds (!) faster than last year's pole position effort recorded by Will Power (1m11.612s).
 
"That was one of the best laps of my life," says Felix Rosenqvist. "I think it's the combination of this track and this team. It was a gorilla lap; I had to wrestle my way to it with a lot of sketchy moments, but that just made it so much more special. The repaving has made this place super fast. I think we're absolutely one of the fastest when we get it together and this was a fitting occasion to prove it."

From his second pole position of the season – and the fifth of his INDYCAR career – Rosenqvist duly led the field to green and took the early command in Sunday's 95-lap race.

A wheel-banging move from newly-crowned champion Alex Palou dropped Rosenqvist to third by lap eight, as Power also nipped ahead, although Rosenqvist could quickly regain P2 a few laps later and sat pretty in second place as the race settled in.

In a heartbreaking development, however, the jinx that has plagued Rosenqvist recurrently in recent seasons once again returned.
As Rosenqvist rejoined in the pack after his first pit stop, fellow countryman Marcus Ericsson clattered the back of the #6 Arrow McLaren Chevrolet at the Andretti Hairpin on lap 29, causing both Swedes to spin – and stranding Rosenqvist in the gravel trap with a puncture.

Although ultimately able to continue, the incident left Rosenqvist two laps down, and out of contention. Ericsson, meanwhile, picked up a penalty for the incident.

Instead of battling for the victory, his final race for Arrow McLaren saw Rosenqvist classified in 19th place.

"What a ride," Felix Rosenqvist comments. "It really was a roller coaster for my final drive with Arrow McLaren. We started on pole with a mega car and a strong first half of the race. Then Marcus ran into me, and our day was ended from there. The #6 crew fought hard to keep us in the race, but it's a big shame considering the potential we had today."

In a season of ups and downs, Rosenqvist ends the 2023 NTT INDYCAR SERIES in 12th place in the final standings. Among the highlights achieved this year are two podiums, two pole positions (tied for most of the season) and one fastest race lap. Rosenqvist also led the blue-riband Indy 500 for 33 laps, having started the oval extravaganza on the front row.

"It's been a wild season for us, but to actually wrap it up with two poles and two podiums with everything that's gone on, I'm really proud of us," Felix Rosenqvist concludes. "The pace has been there most of the time, as demonstrated here this weekend, but other circumstances have stopped us from achieving our goals – as demonstrated here today, too.
"It's been really special racing with Arrow McLaren, and I leave with my head held high. A big thank you to the entire team and especially my crew on the #6 car. Now, a new chapter awaits; I'm already excited for what's to come next season."   

Felix Rosenqvist announced his plans for the 2024 campaign earlier this week, with the Swede set to join Meyer Shank Racing as he commences a new phase in his NTT INDYCAR SERIES career.

RESULTS
NTT INDYCAR SERIES | Rd. 17
Firestone Grand Prix of Monterey
Laguna Seca (USA)
1: Scott Dixon (NZL), Ganassi, 95 laps
2: Scott McLaughlin (NZL), Penske, +7.318s
3: Alex Palou (ESP), Ganassi, +10.611s
4: Will Power (AUS), Penske, +14.666s
5: Callum Ilott (GBR), Juncos, +21.128s
—
19: Felix Rosenqvist (SWE), Arrow McLaren, +2 laps

CHAMPIONSHIP STANDINGS
NTT INDYCAR SERIES | After 17/17 races
1: Alex Palou (ESP), Ganassi, 656 p.
2: Scott Dixon (NZL), Ganassi, 578 p.
3: Scott McLaughlin (NZL), Penske, 488 p.
4: Pato O'Ward (MEX), Arrow McLaren, 484 p.
5: Josef Newgarden (USA), Penske, 479 p.
—
12: Felix Rosenqvist (SWE), Arrow McLaren, 324 p.