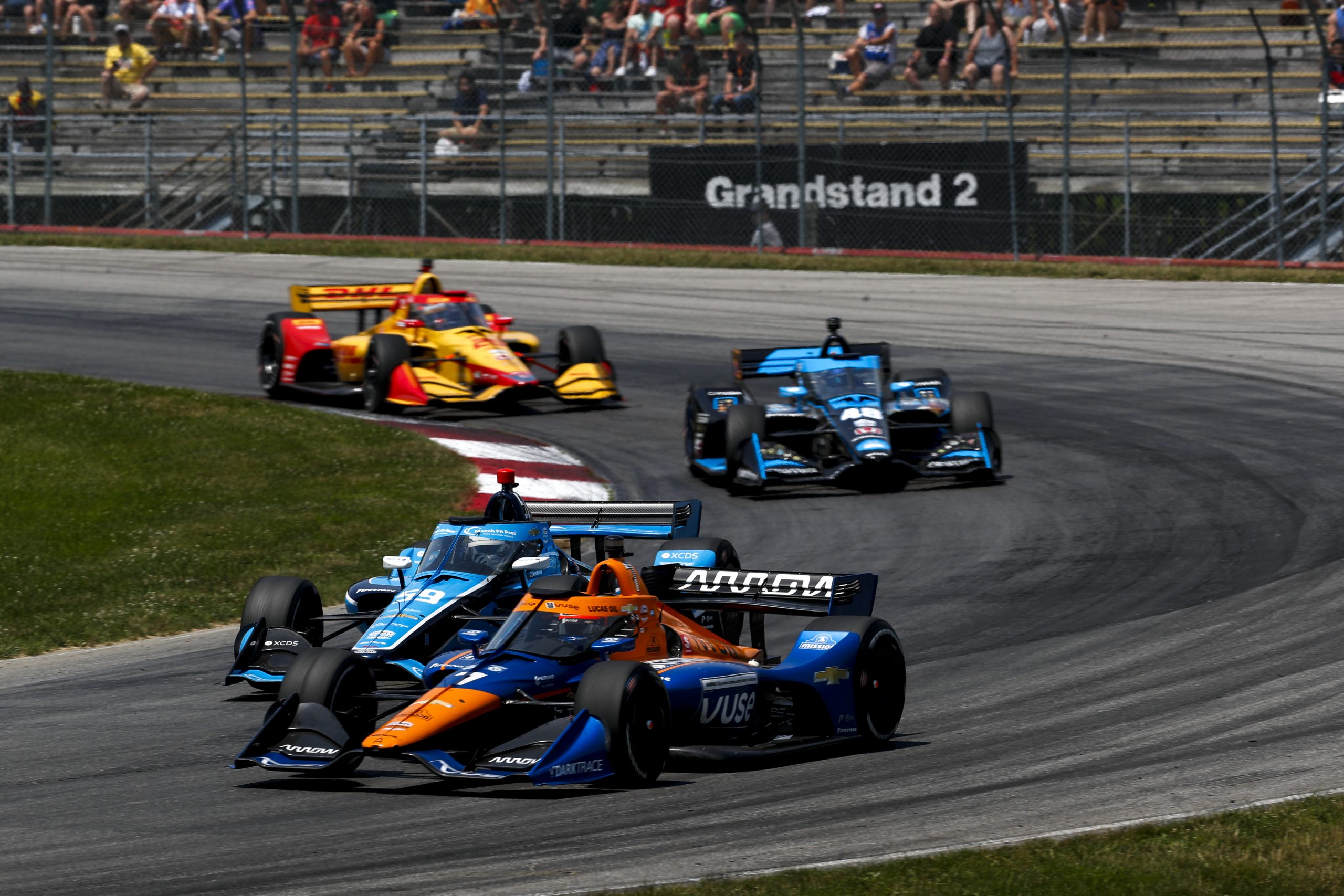 Felix Rosenqvist's trying season continued on his return to the NTT INDYCAR SERIES when the Swede was tagged in a first-corner incident just moments after the start in Sunday's Indy 200 at Mid-Ohio.

Rosenqvist, making his championship comeback in the wake of last month's dramatic accident at the Chevrolet Detroit Grand Prix, was hit from behind by ex-F1 star Romain Grosjean mere seconds into the 80-lap encounter in Lexington, Ohio.

Rosenqvist was forced to limp back to the pits for repairs to his #7 Vuse Arrow McLaren SP car, dropping off the lead lap, and was eventually classified 23rd after completing the race with a damaged car.
"Another tough day," says Felix Rosenqvist. "I made a pretty good start and just tried to stay away from everything that was going on, but Grosjean hit me from behind and the car was quite heavily damaged. The team did a really good job to get me back out, but we lost a lap and there was still damage to the suspension and floor, so we struggled a lot with virtually no downforce. Not the most fun race."
On his return to competition, Rosenqvist had qualified ahead of team-mate and title contender Pato O'Ward as the lead Arrow McLaren SP car in 13th on the grid.
This is the second consecutive year in which Rosenqvist has fallen victim of a first-corner clash at Mid-Ohio, where previous to that he had celebrated a breakthrough INDYCAR milestone in 2019 with his first series podium.
"I really thought we'd have a break from all misfortune now, but apparently not," Felix Rosenqvist concludes. "At least it was very positive to be back in the car again, and I felt strong both mentally and physically. I think I got everything out of the car in qualifying, too, so it would have been interesting to see where our race pace would have taken us. We're not giving up, though. The next race is one that I've been looking forward to a lot this year, so I'll do everything I can to make it a memorable one."

The NTT INDYCAR SERIES now heads into a one-month summer break, before resuming with a brand new event on the streets of downtown Nashville – a hotly anticipated addition to the 2021 INDYCAR schedule. The Big Machine Music City Grand Prix, as the event will be known, takes place on August 8. 

RESULTS
NTT INDYCAR SERIES | Rd. 10
Indy 200 at Mid-Ohio
Mid-Ohio Sports Car Course (USA)
1: Josef Newgarden (USA), Penske, 80 laps
2: Marcus Ericsson (SWE), Ganassi, +0.879s
3: Alex Palou (ESP), Ganassi, +22.235s
4: Scott Dixon (NZL), Ganassi, +32.377s
5: Alexander Rossi (USA), Andretti, +33.141s
—
23: Felix Rosenqvist (SWE), AMSP, +2 laps

CHAMPIONSHIP STANDINGS
NTT INDYCAR SERIES | After 10/16 races
1: Alex Palou (ESP), Ganassi, 384 p.
2: Pato O'Ward (MEX), AMSP, 345 p.
3: Scott Dixon (NZL), Ganassi, 328 p.
4: Josef Newgarden (USA), Penske, 315 p.
5: Marcus Ericsson (SWE), Ganassi, 280 p.
—
25: Felix Rosenqvist (SWE), AMSP, 94 p.