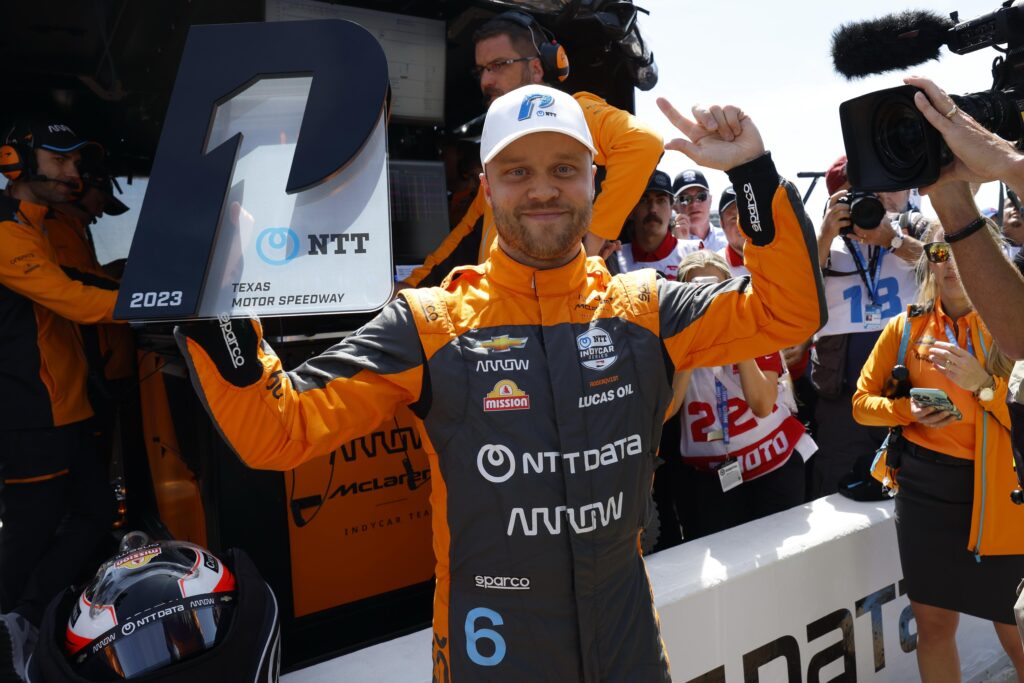 NTT INDYCAR SERIES | Rd. 2
PPG 375 – Texas Motor Speedway (USA)
Felix Rosenqvist backed up his 2022 pole position at Texas Motor Speedway with a carbon-copy performance in qualifying for this weekend's PPG 375, again pulling off the feat from an early run slot as he held off the NTT INDYCAR SERIES field for top spot.

Running as the tenth of 28 cars, Rosenqvist threw in a two-lap average of 220.264 mph (354 km/h) around the 1.5-mile superspeedway as he swept to the top of the early timesheets.

Just like last year, he then had to watch on from the pit wall as rival after rival failed to match his time – and again it proved enough to cling on to pole position.
Rosenqvist will share the front row of the grid on Sunday with Scott Dixon, the most successful driver in INDYCAR history at Texas Motor Speedway with five wins to his name.

On a brilliant day all-round for Arrow McLaren, the team's three drivers all wound up inside the top five, with Alexander Rossi in P3 and Pato O'Ward in P5.

"It's fantastic to be on pole here for a second straight year," says Felix Rosenqvist. "We have great cars; Arrow McLaren gave us a weapon again today. We have always been good around here, but this is just a whole different confidence level compared to last year. Big thanks to all our partners for their phenomenal support.

"I'm thrilled for everyone on the team, and obviously the #6 car especially. We're keeping calm and we just do our thing. It was an amazing qualifying session today and I don't think we could have done much better. Let's try to wrap it up tomorrow!"

Today's pole position is Rosenqvist's first this season, and the Swede's fourth in total in INDYCAR.
Sunday's PPG 375 – round two of the 2023 NTT INDYCAR SERIES – is scheduled to start at 11:10 am local time / 18.10 CEST.

RESULTS
NTT INDYCAR SERIES | Rd. 2
PPG 375 – Qualifying
Texas Motor Speedway (USA)
1: Felix Rosenqvist (SWE), Arrow McLaren, 47.070s
2: Scott Dixon (NZL), Ganassi, +0.062s
3: Alexander Rossi (USA), Arrow McLaren, +0.065s
4: Josef Newgarden (USA), Penske, +0.099s
5: Pato O'Ward (MEX), Arrow McLaren, +0.138s