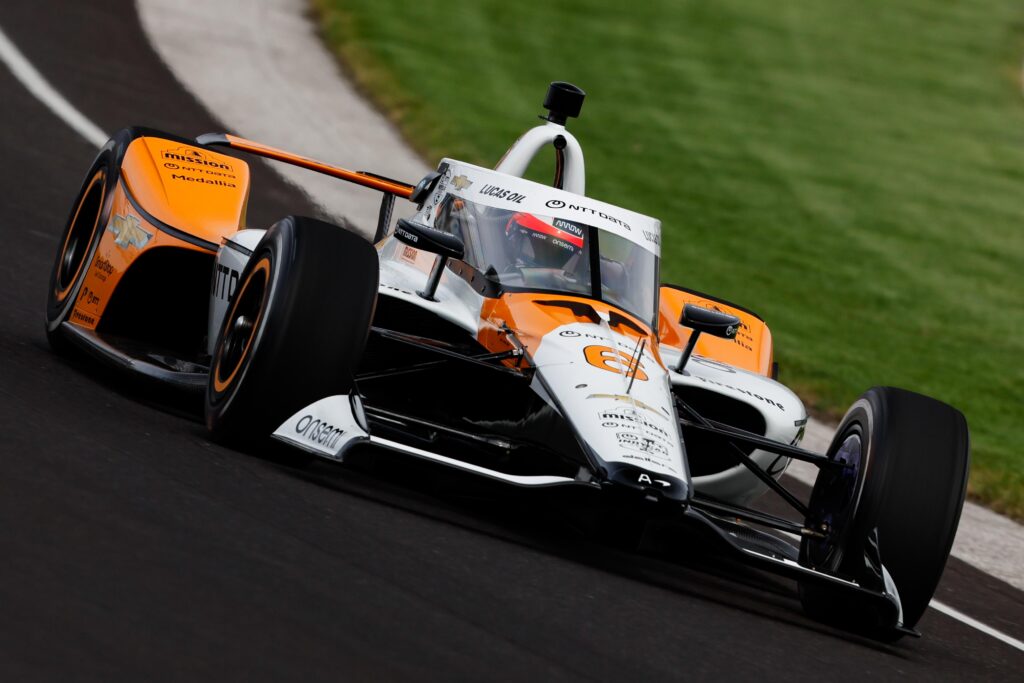 Felix Rosenqvist produced one of the fastest four-lap runs ever seen at the Indianapolis Motor Speedway to lead the first day of qualifying for the 107th Indianapolis 500.
 
Rosenqvist achieved an average speed of 233.947 mph (376.5 km/h) over a spectacular ten-mile qualifying run on Saturday, leading an Arrow McLaren 1-2 ahead of team-mate and 2016 Indy 500 winner Alexander Rossi.

Rosenqvist's qualifying attempt is one of the fastest in history at "The Greatest Spectacle in Racing", only bettered on two previous occasions: in the record-setting run of Arie Luyendyk in 1996, and in 2022, when Scott Dixon set the fastest-ever pole position effort at 234.046 mph.

As well as leading the four-lap average charts, Rosenqvist also set the fastest individual lap of the day at 234.329 mph (377.1 km/h).

In leading the times on Saturday, Rosenqvist comfortably advances to the decisive second day of qualifying on Sunday, when the top four rows of the grid will be locked in. All four Arrow McLaren cars will progress after a stout collective showing on Saturday.

"Wow. I have no words for that," says Felix Rosenqvist. "That was a phenomenal run. Big thanks to Arrow McLaren and Chevrolet, who have done a fantastic job. Every time we're out there we're learning something, but when I saw the numbers we were doing on that run, I couldn't believe it. It's unreal, and it does put a smile on my face!

"We're clearly in a good spot for tomorrow, but this place can throw anything at you. We just have to stay focussed. I know we can extract even more." 

Rosenqvist becomes only the second Swedish driver in history to top an Indianapolis 500 qualifying session, after Kenny Bräck in 2005. No Swede, however, has ever started the famous race on pole position.

Sunday's second part of qualifying will feature a two-stage format, starting with a Top 12 session (featuring the fastest 12 drivers from Saturday) and culminating in the Firestone Fast Six pole position shootout.
When it happens: Full Indy 500 time table

RESULTS
NTT INDYCAR SERIES | Rd. 6
107th Indianapolis 500 – First Day Qualifying
Indianapolis Motor Speedway (USA)
1: Felix Rosenqvist (SWE), Arrow McLaren, 233.947 mph
2: Alexander Rossi (USA), Arrow McLaren, 233.528 mph
3: Alex Palou (ESP), Chip Ganassi Racing, 233.398 mph
4: Rinus Veekay (NED), Ed Carpenter Racing, 233.395 mph
5: Scott Dixon (NZL), Chip Ganassi Racing, 233.375 mph