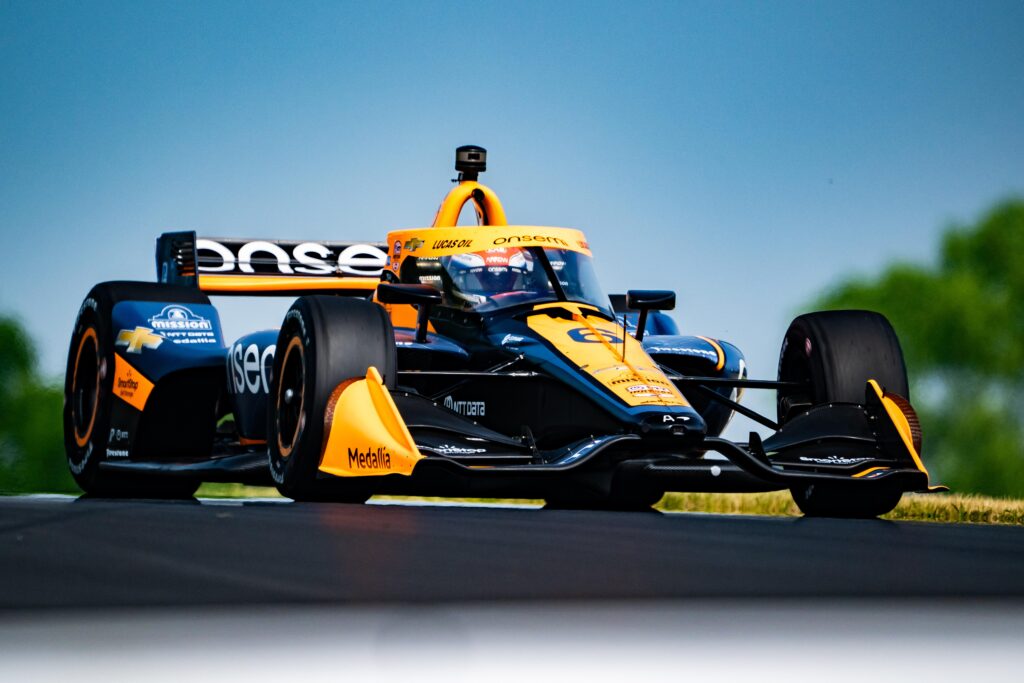 NTT INDYCAR SERIES | Rd. 9
PREVIEW Honda Indy 200 at Mid-Ohio (USA)
The 2023 NTT INDYCAR SERIES is reaching its halfway mark this weekend at Mid-Ohio Sports Car Course, with Felix Rosenqvist out to make amends at the venue after seeing a potential podium vanish in a cloud of smoke last year.

Rosenqvist was running third in the Honda Indy 200 at Mid-Ohio in 2022 when an engine issue caused him to retire in the early stages, adding to the Swede's recent jinx at the circuit following back-to-back first-corner retirements in 2020 and 2021.

On a more positive note, however, the Arrow McLaren racer also has a podium to his name at Mid-Ohio from back in 2019 – his very first rostrum finish in INDYCAR – and Rosenqvist remains fundamentally fond of the 2.2-mile road course. 

"Mid-Ohio is a great track to drive in an Indy car, and it's actually where I drove one for the very first time in a test back in 2016," says Felix Rosenqvist. "I had my first podium there, and the pace has always been strong, but in the last three years luck just hasn't been on my side. It would be nice to make up for that this weekend, and I think we have every possibility of doing so given how strong we've been in recent races."

Rosenqvist arrives at Mid-Ohio recharged for the second half of the season after a week of vacation in the Caribbean, and is fully focussed on improving on his current position of 12th in the NTT INDYCAR SERIES standings between now and the end of the season.

"It's been a super intense three or four months, so going away to catch some sun was definitely needed," Felix Rosenqvist concludes. "It was great, and now I feel more ready than ever to take on chapter two of the season. I can't wait to get back on track. I'm really, really looking forward to the coming months and trying to get our #6 Arrow McLaren Chevrolet to the top of the podium."

The Honda Indy 200 at Mid-Ohio is played out over 80 laps on Sunday, July 2. Practice for the event begins on Friday.

TIME TABLE
All times local (U.S. Eastern)
NTT INDYCAR SERIES | Rd. 9
Honda Indy 200 at Mid-Ohio
Mid-Ohio Sports Car Course (USA)
Friday 30 June
Practice 1: 3:05-4:20 pm
Saturday 1 July
Practice 2: 9:45-10:45 am
Qualifying: 2:45-4:15 pm
Sunday 2 July
Warm-up: 10:30-11:00 am
Race (80 laps): 1:45 pm

TIMING: INDYCAR App / racecontrol.indycar.com
ENTRY LIST: view here
TRACK DATA: view here
CHAMPIONSHIP STANDINGS: view here