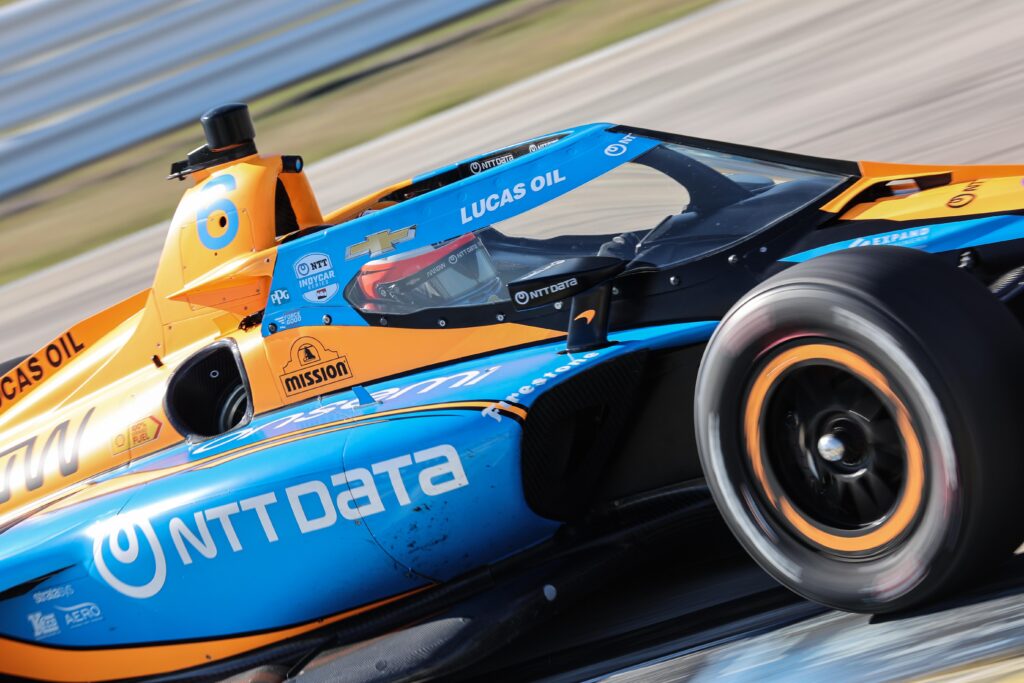 NTT INDYCAR SERIES | Rd. 1
PREVIEW Firestone Grand Prix of St. Petersburg (USA)
This weekend sees the NTT INDYCAR SERIES kick off in traditional style with the Firestone Grand Prix of St. Petersburg, Florida's picturesque street race – and Felix Rosenqvist is aiming high in 2023 as his Arrow McLaren squad expands both on the track and off.

Rosenqvist sits on the eve of his fifth INDYCAR season, and his third with Arrow McLaren. Encouraged by a strong 2022 campaign, in which he scored one podium and two pole positions to take eighth overall in the hotly contested championship, the Swede is carrying high hopes of further improvements in 2023.

At the core of the fresh optimism is classic, dynamic growth. Having previously formed part of a two-car team alongside Mexico's Pato O'Ward, Rosenqvist will be joined by a further team-mate this year in the shape of Alexander Rossi as Arrow McLaren expands to a three-car operation (four at the Indy 500).

That, in effect, means 50 % more data acquisition in every session on the track, a key development that takes the team numerically to the same level as their established frontrunning rivals.

As a knock-on consequence of the expansion, a significant number of new staff have joined over the winter, with the team also moving house to a new, larger workshop outside Indianapolis.

"The big thing for us this year is definitely the expansion to three cars," says Felix Rosenqvist. "It gives us a very concrete, strong new card to play, and it will help both with data gathering and strategy considerations. It's really positive, and Alex (Rossi) has been integrated well.

"From a pure sporting perspective, this is the single biggest thing that's happened to us in my time at the team, so I'm massively excited to see how this season pans out."

More specifically for Rosenqvist, the off-season expansion has meant a move from the team's #7 entry to the #6 Chevrolet, and the arrival of a new engineer. Work with new wingman Chris Lawrence has been rehearsed in pre-season testing, much to Rosenqvist's liking.

"It's been working well," Rosenqvist concludes. "We've had a decent pre-season period, but it's hard to draw any firm conclusions. There were some red flags that interrupted quite a bit of running at The Thermal Club, and no one has tested at all on the compound tyres we'll be using this weekend in St. Pete.
 
"I think everyone is basically just as keen to see where they are this season. It feels completely wide-open, which is always the great thing about INDYCAR."

The Firestone Grand Prix of St. Petersburg begins on Friday with an opening practice session on the 1.8-mile street course. Qualifying takes place on Saturday, with the 100-lap season-opening race then going green at 12:20 pm local time on Sunday. 

TIME TABLE
All times local (U.S. Eastern)
NTT INDYCAR SERIES | Rd. 1
Firestone Grand Prix of St. Petersburg
Streets of St. Petersburg
Friday 3 March
Free Practice 1: 3:00-4:15 pm

Saturday 4 March
Free Practice 2: 10:00-11:00 am
Qualifying: 2:15-3:30 pm

Sunday 5 March
Warm-up: 09:00-09:30 am
Race (100 laps): 12:20 pm


TIMING: INDYCAR App / racecontrol.indycar.com
ENTRY LIST: view here
TRACK DATA: view here