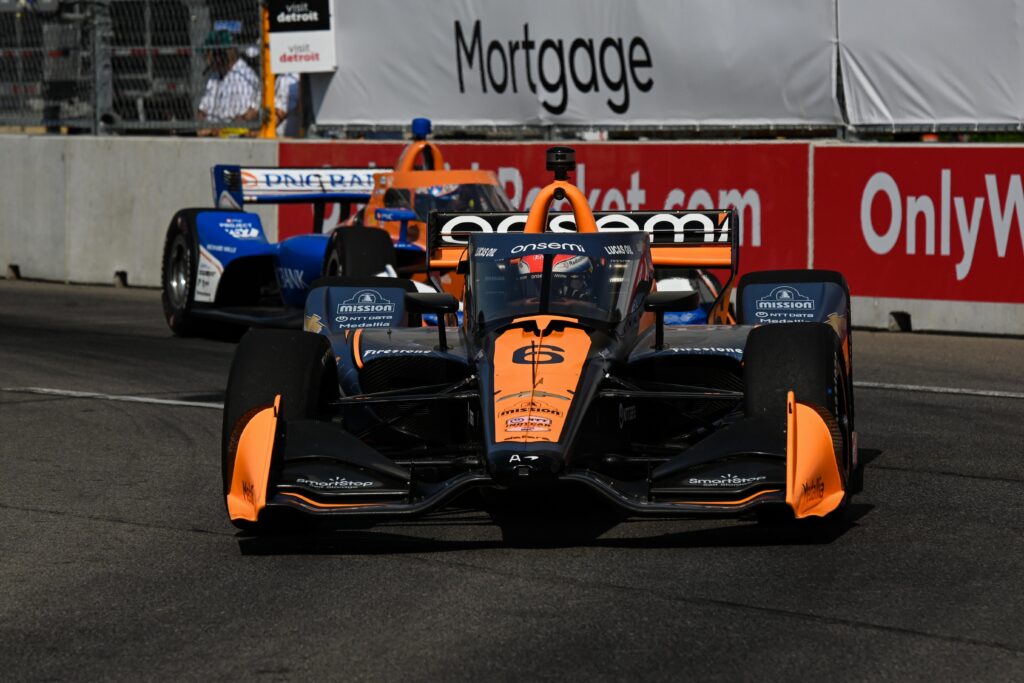 NTT INDYCAR SERIES | Rd. 13
PREVIEW Big Machine Music City Grand Prix (USA)
Felix Rosenqvist is heading to Nashville this weekend for the Big Machine Music City Grand Prix – which has quickly cemented itself as one of the most action-packed races on the NTT INDYCAR SERIES schedule.
Now staged for the third time, the two previous editions of the Nashville street race (in 2021 and 2022) have featured a dramatic cocktail of crashes, cautions and reshuffling of the competitive order, establishing the Tennessee event as arguably the most fickle round in a championship already famed for its unpredictability.  

As the field returns to Music City this weekend, Rosenqvist is expecting more of the unexpected behind the wheel of his #6 Arrow McLaren Chevrolet.

"Nashville is Nashville, and I think that pretty much sums it up," says Felix Rosenqvist. "You just have to watch the highlights programme from the previous races to see that this one has it all! You have to take it lap by lap, try to keep out of trouble and hope you're up there at the end.

"From purely a performance perspective, I feel we're definitely strong on all the street courses, but again, Nashville is not just about speed. Part of the game will be staying alive out there and keeping your nose clean."   

Rosenqvist and fellow countryman Marcus Ericsson will be joined this weekend by yet another Swede on the grid, as Linus Lundqvist steps up to make his NTT INDYCAR SERIES debut.

"It's great to see Linus finally getting this opportunity," Felix Rosenqvist comments. "He has deserved it. It's always tough to jump into a championship mid-season, but I wish him well for his debut."

The Big Machine Music City Grand Prix – round 13 of 17 on the 2023 schedule – begins with opening practice on Friday. Saturday then features further practice and qualifying, with the 80-lap race then set to go green on Sunday.

TIME TABLE
All times local (U.S. Central)
NTT INDYCAR SERIES | Rd. 13
Big Machine Music City Grand Prix
Nashville (USA)
Friday 4 August
Practice 1: 3:00-4:15 pm
Saturday 5 August
Practice 2: 10:40-11:40 am
Qualifying: 1:45-3:15 pm
Practice 3: 5:25-5:55 pm
Sunday 6 August
Race (80 laps): 11:00 am

TIMING: INDYCAR App / racecontrol.indycar.com
ENTRY LIST: view here
TRACK DATA: view here
CHAMPIONSHIP STANDINGS: view here