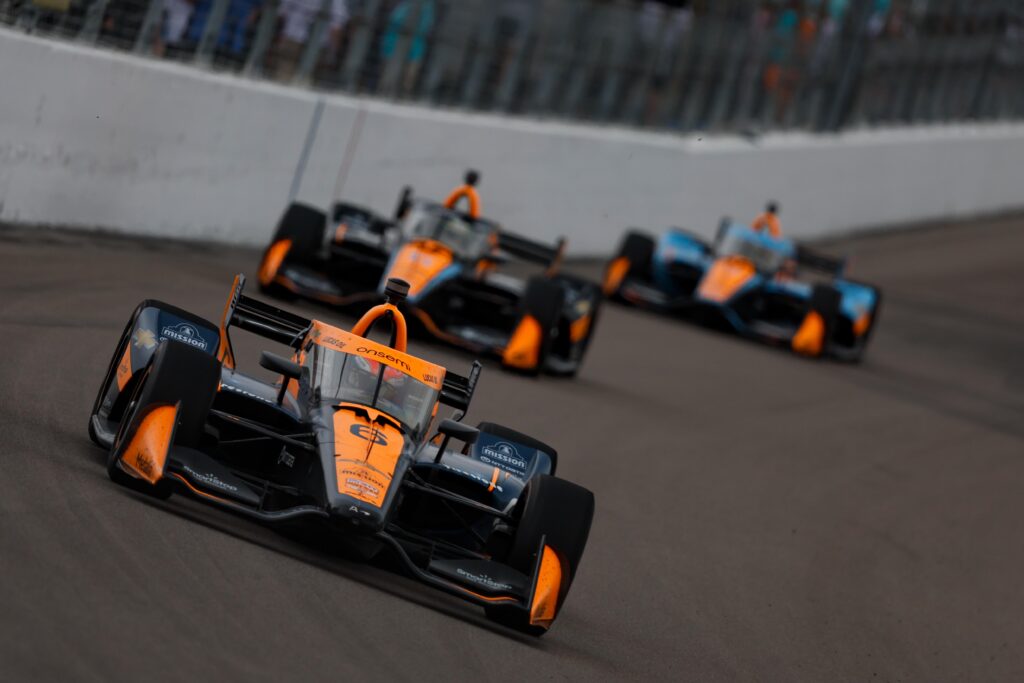 Felix Rosenqvist scored a top eight finish in Sunday's Bommarito Automotive Group 500, as the final oval event on the NTT INDYCAR SERIES schedule provided some welcome answers in terms of pace.

Having historically struggled at the series' short oval venues, Rosenqvist's weekend at the 1.25-mile World Wide Technology Raceway proved a step in the right direction.

The Arrow McLaren driver opened proceedings strongly with P5 in Saturday practice, which was heavily delayed due to intense rain in the circuit area. 

In a postponed qualifying session just hours before the race on Sunday, Rosenqvist's promise then continued as he took fourth on the grid. 
The Swede continued to feature near the sharp end of the field for much of the race, along with Arrow McLaren team-mates Pato O'Ward and Alexander Rossi in a collectively strong showing for the outfit.
Although Rosenqvist was shuffled down the order in the second half of the race to eventually finish eighth, the weekend still marked a number of positives in sheer performance terms, underpinned by Rosenqvist setting the second-fastest lap of the race.
"We have all three cars in the top eight today, so it's a solid day for the team," says Felix Rosenqvist. "I would have liked to finish a bit further up, especially having started fourth, but we lost a bit too much time on pit lane today and also we probably didn't make the most of our strategy.

"Still, this track in the past has been difficult for us, and generally the short ovals have been a weak point. To now be consistently up there, battling for the win at Iowa and qualifying fourth here from quite a poor slot in the running order, is definitely positive. I have improved my own performance as well on these tracks and, for the last oval event of the season, that's a good takeaway for me."
The NTT INDYCAR SERIES is back on track next weekend (1-3 September) for the Grand Prix of Portland, which marks the penultimate round of the season.

RESULTS
NTT INDYCAR SERIES | Rd. 15
Bommarito Automotive Group 500
World Wide Technology Raceway (USA)
1: Scott Dixon (NZL), Ganassi, 260 laps
2: Pato O'Ward (MEX), Arrow McLaren, +22.225s
3: David Malukas (USA), Dale Coyne, +22.727s
4: Alexander Rossi (USA), Arrow McLaren, +1 lap
5: Scott McLaughlin (NZL), Penske, +1 lap
—
8: Felix Rosenqvist (SWE), Arrow McLaren, +1 lap

CHAMPIONSHIP STANDINGS
NTT INDYCAR SERIES | After 15/17 races
1: Alex Palou (ESP), Ganassi, 565 p.
2: Scott Dixon (NZL), Ganassi, 491 p.
3: Josef Newgarden (USA), Penske, 440 p.
4: Pato O'Ward (MEX), Arrow McLaren, 429 p.
5: Scott McLaughlin (NZL), Penske, 426 p.
—
13: Felix Rosenqvist (SWE), Arrow McLaren, 270 p.